Fixed Gas Detection Systems
Fixed gas detection protects people and plant from the dangers of high gas levels - whether toxic, flammable or oxygen depletion risks.
It is imperative to provide all the elements of fixed gas detection systems to provide adequate and appropriate detection. This requires knowledge of the gases that may be present, the environment to be protected and the alarm elements to alert the danger.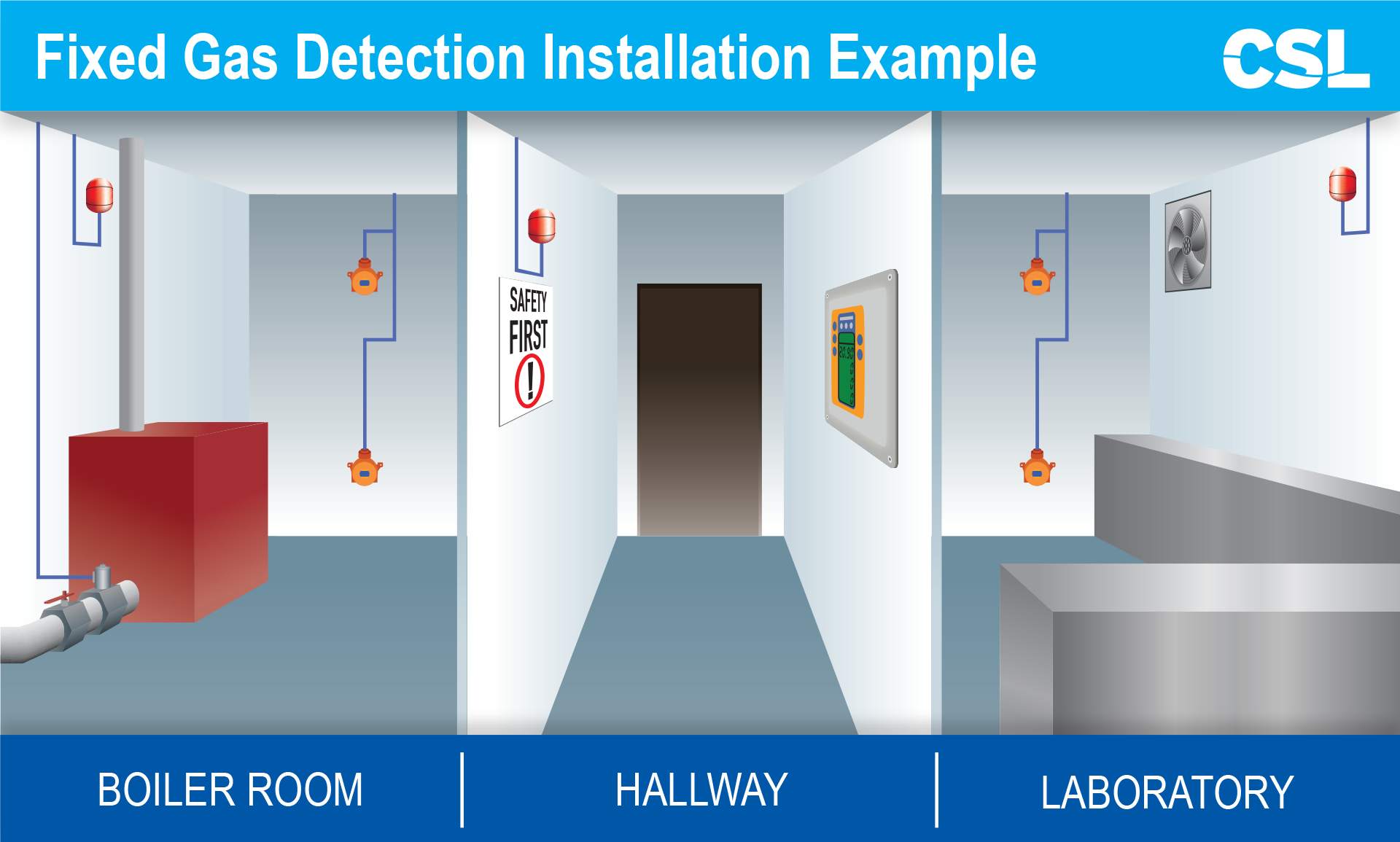 Audio visual alarm indication
Carbon monoxide detector
LPG detector (Natural gas would be mounted high)
Slamshut to automatically turn off fuel supply

Gas Control panel
Oxygen detector
Carbon dioxide detector
Extraction system activated by gas control system
---
The Elements of a gas detection system
1. Sensors
Detectors or sensors are mounted in the area to be protected taking account of:-
Gas type
The detectors must detect the appropriate gas – for example to protect against Nitrogen or Helium risks we monitor for low oxygen levels.
Height
The detectors must be mounted at the appropriate height – for example Carbon Dioxide is a heavy gas and will fall close to the floor while natural gas is a  light gas. In some circumstances a detector may be mounted in an extraction duct – an MRI room for example. For wet locations an "ESU" sampling system minimises the risk of sensor flooding. For light gases a "Collector Cone" aids in funnelling the rising gas to the sensor head.
Quantity
The number of sensors required to  monitor an area depends on the size of the area to be monitored, the likely gas sources (e.g. gas bottles versus gas pipes). There is no official figure, but we often use 100m2 per detector as the area of coverage of a gas detector is in an open location, adding more detectors at points where leakage could occur.
Zoning
The detector must be of the appropriate classification for the zone e.g. ATEX rating required where there is an explosive risk.
See the Crowcon "Xgard" detectors and contact CSL for advise on gas detectors. The "Xgard IQ" has a built-in gas display.
2. Control panel
A gas control panel monitors the gas level from each sensor, displays their values on the screen and alarms if a threshold is breached. In the event of an alarm the control panel activates auxiliaries and connected elements such as audio visual alarms, slamshut valves, fire alarm or building management systems. 
The control panel must be sized to suit the number of sensors required – as well as having some spare capacity for future expansion. 
See the Crowcon "Gasmaster" for 1 to four sensors. The "Vortex" control panel monitors up to 12 sensors and the "Gasmonitor" up to 16.
3. Auxiliaries and Control
Alerting personnel during and after a gas leak is often omitted or misunderstood. Appropriate audio visuals in and outside the area are required. They must take account of the Zoned classification.
Activating and controlling gas slamshuts, extraction systems and vents may also be appropriate.
Connecting with site management systems such as fire alarms, BMS or SCADA can provide essential warning e.g. out of hours. Simple dialouts or telemetry systems can be incorporated into the gas detection system.
Contact CSL for advise on maximising the advantages of a gas detection system with appropriate auxiliary equipment.